The Old Sea Dog Exhibitions
Ever since The Old Sea Dog opened, it has been our policy to support and showcase the work of artists both by giving them an opportunity to sell their work in the shop and by hosting exhibitions to bring the artist's work to a wider audience. Due to the Covid 19 situation, 2020 was the first year that The Old Sea Dog didn't host an exhibition of an individual artist, but we look forward to resuming these events when the situation allows. Below are the posters from some of the shows we have hosted in the past.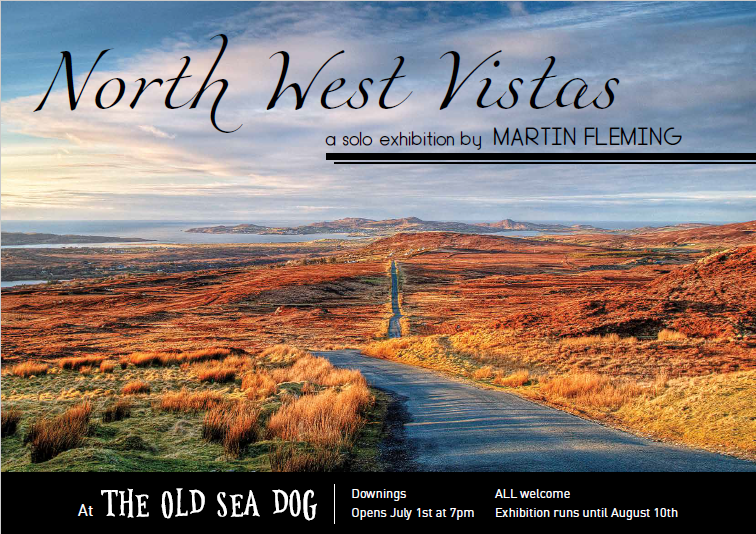 Martin Fleming is a talented local photographer and The Old Sea Dog was delighted to launch the first ever solo exhibition of his work in our gallery at the rear of our shop in Downings in July 2017. 'North West Vistas' showcased Martin's landscape photography celebrating the remarkable beauty of the local area. From the tranquil vista of Doe castle at the mouth of the estuary to stunning views of the entire peninsula from the heights of Lough Salt, Martin's years of experience shine through with technical expertise and perfectly framed images.
The Lighthouses of Donegal
With the aim of The Old Sea Dog being to celebrate the sea and the rich maritime heritage of Donegal, the opportunity to stage an exhibition showcasing the Lighthouses Of Donegal led to a perfect synergy between the artist and the space. Roger O'Reilly is a celebrated award winning artist and designer. He has spent many years documenting through his art, the lighthouses that dot our coastline. Donegal has more lighthouses than any other county in Ireland due to our prominent position as a major shipping route between Northern Europe and the Americas and we were honoured to have Caite Feelty of Fanad lighthouse on board to launch the exhibition. Roger O'Reilly went on to publish a book "Lighthouses of Ireland" which won the An Post Book Of The Year award. The Old Sea Dog has continued to promote Roger's work and his prints are for sale in our gallery.
  irelandposters.ie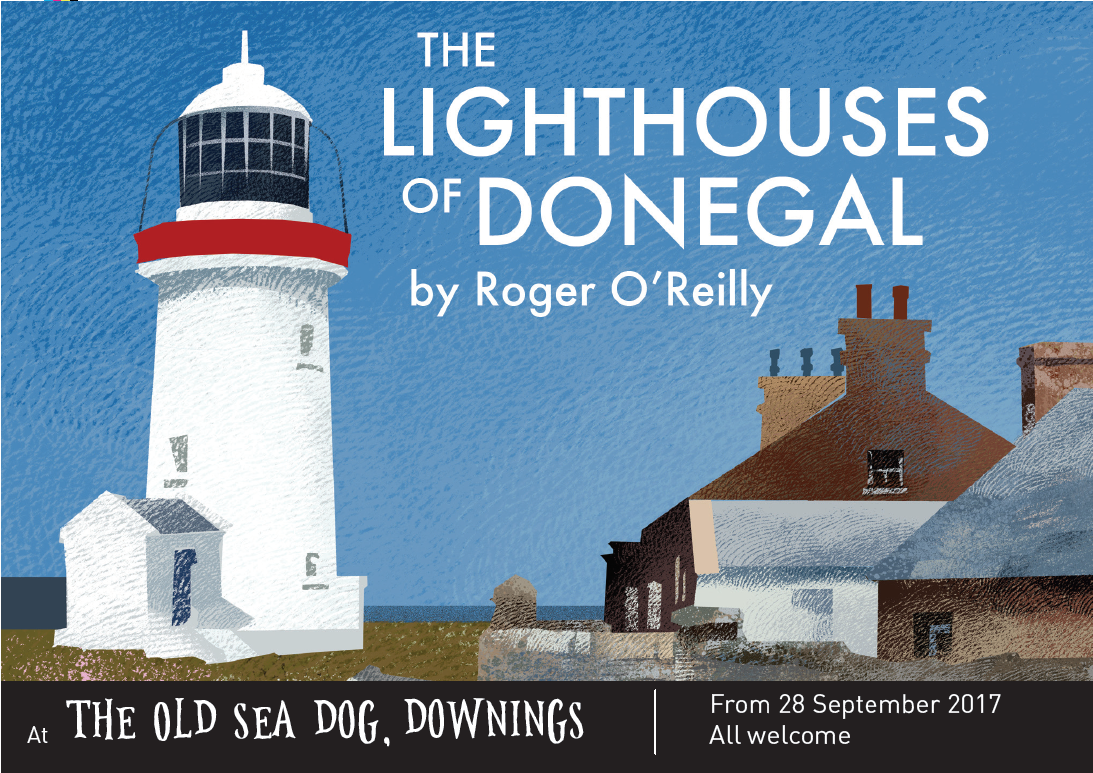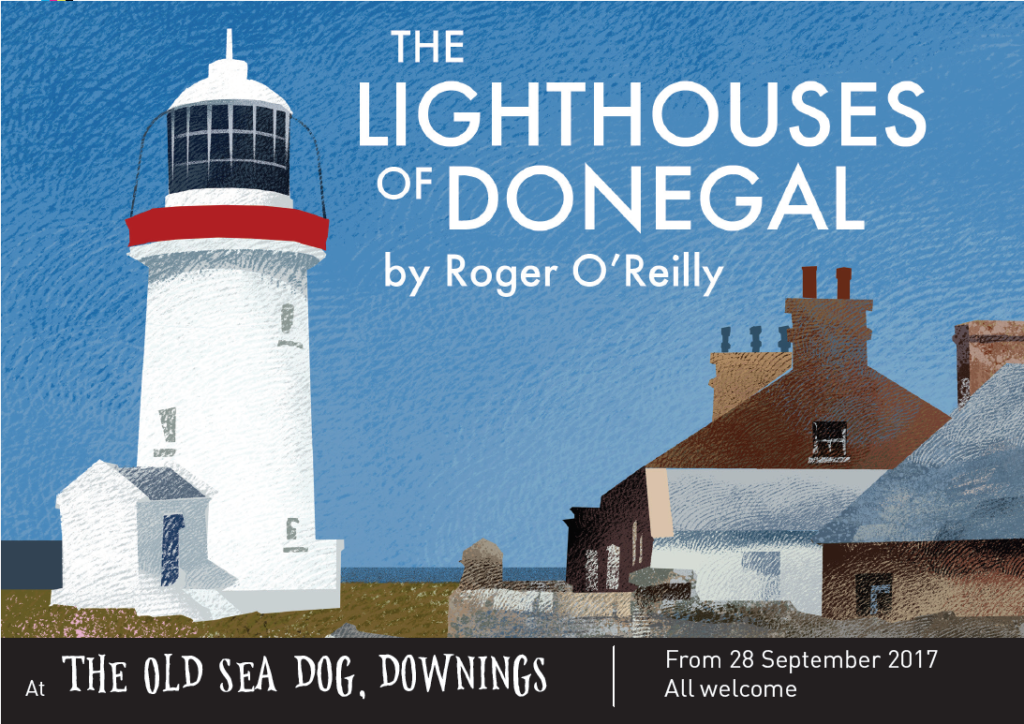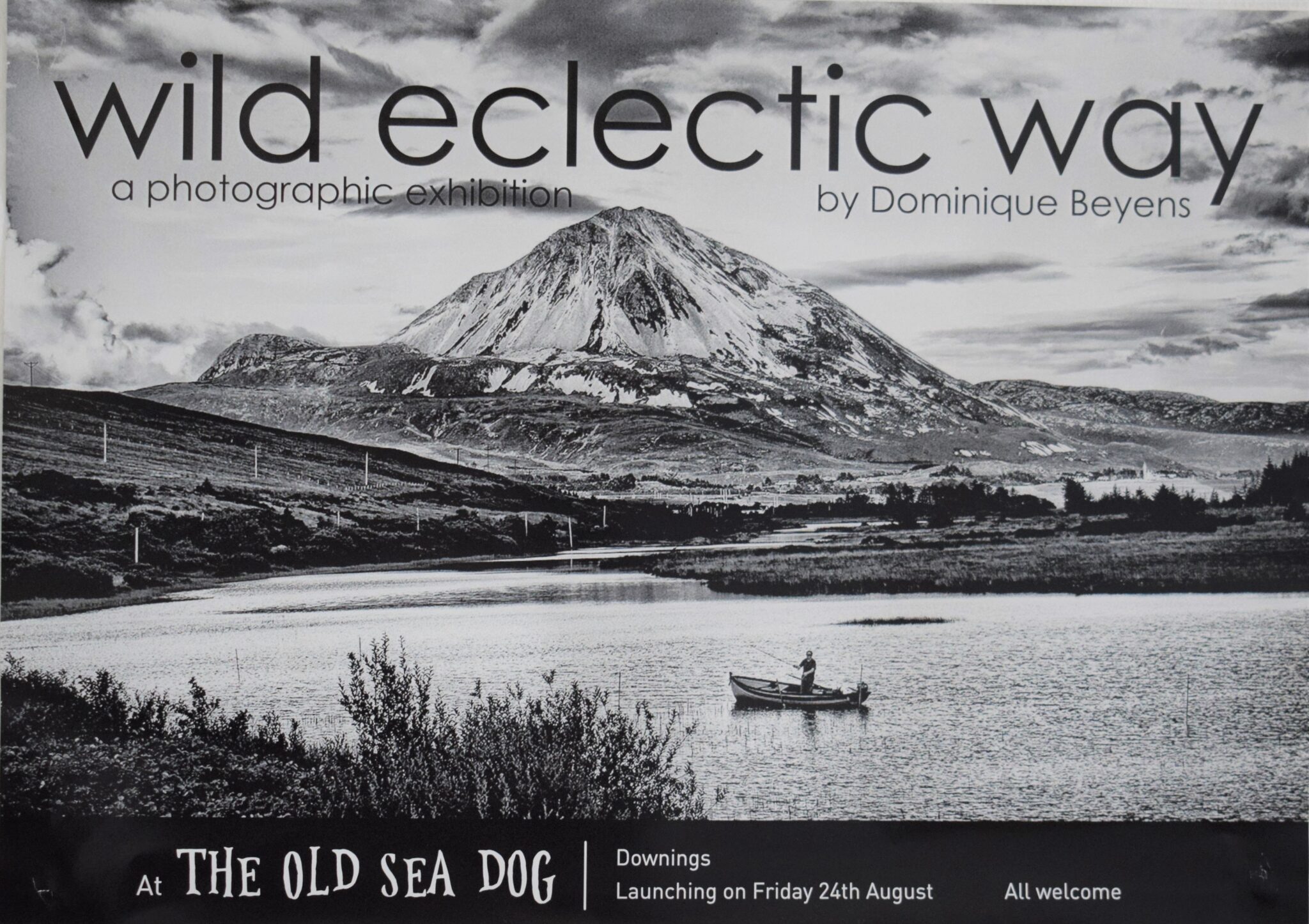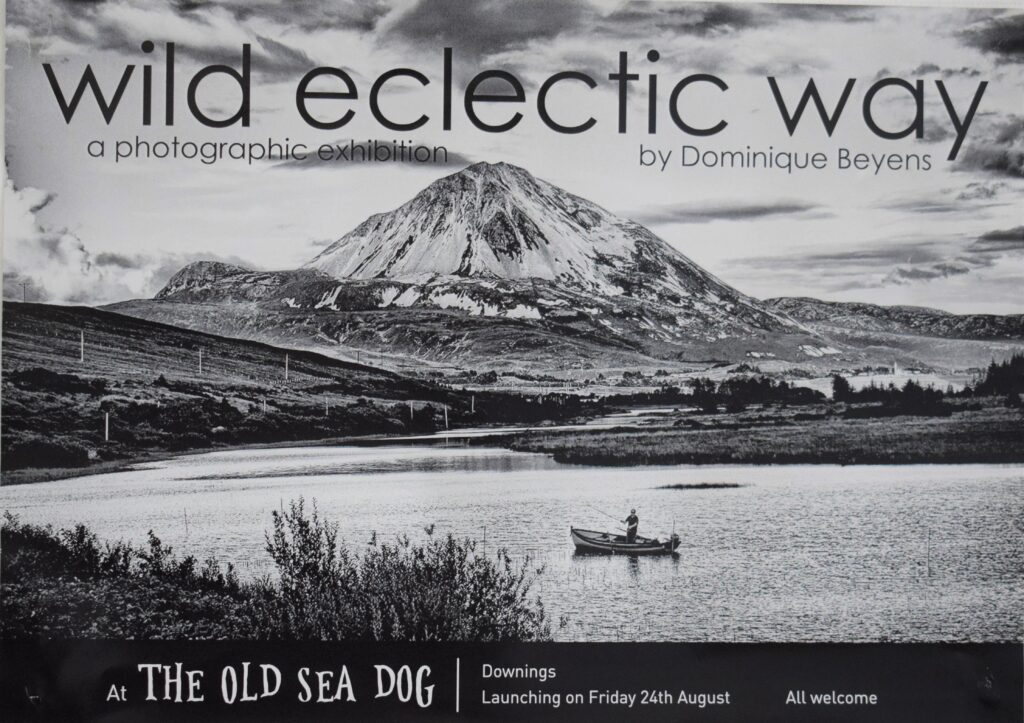 Summer of 2018 saw the launch of an exhibition of photographs by Dominique Beyens in The Old Sea Dog gallery as part of Feile Carrig Arts & Culture. 'wild eclectic way' comprised of stunning black and white images of some of Donegal's most iconic landscapes including Errigal and Fanad lighthouse alongside portraits of animals. A full-time artist originally from Belgium, Dominique has been living and working in Ireland for over 25 years. Beyen's diverse style effortlessly captures the beauty and presence within. His portraits of animals showcasing his precise sense of timing and engagement and his satirical naming of his images brings a smile to the onlooker. www.eclecticlens.com
"Na Dúnaibh
LAT.55.194078°LONG.-7.74675°"
Lucia Mc Clafferty's debut solo exhibition took place in The Old Sea Dog in the summer of 2019. Entitled "Na Dunaibh LAT. 55. 194078° LONG.-7.84675°" the work showcased a selection of oil paintings exploring the varied local topography alongside some skilfully rendered equine art. Lucia Mc Clafferty is a Downing's native, who after many years abroad returned to raise her family in the local area, whilst refining her craft in her studio in Derryhassan. Using the medium of oil painting to skilfully capture the moody skies and churning seas that envelope the peninsula, the exhibition gives us an authentic and energetic talent exploring her surroundings with sensitivity. 
We have the pleasure to continue exhibiting her work in The Old Sea Dog Gallery.
  luciamcclafferty.com